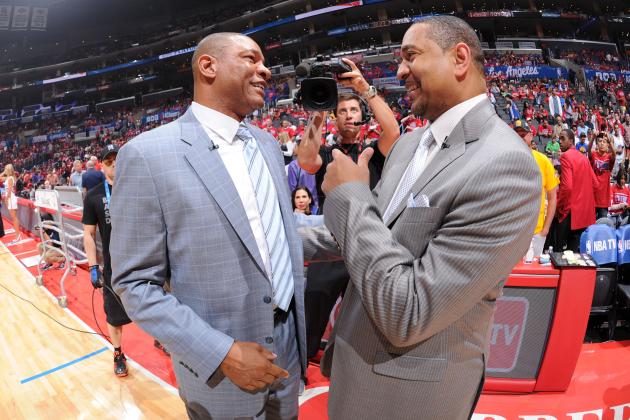 After an exhausting seven-game Clippers-Warriors series, the focus has shifted to the next round for the Clippers and to the firing of Mark Jackson. But before we move on, can we talk about how crazy and extensive the psychological operations of both coaches were?
Pre-series:
During the regular season, the Clippers-Warriors rivalry was well-known. Doc forbid his players to join Warriors players for chapel. Mark Jackson was so into the Clippers rivalry that he trash-talked Doc
before a Cleveland Cavs game in March
, of all things:
-Q: How do things change with Klay out?
-JACKSON: Obviously Klay's ability to shoot the basketball; probably as important if not more important, his ability to defend. In a game like tonight he would start naturally on Kyrie Irving.
Contrary to Doc Rivers' comments, it's not because I'm hiding Steph Curry. It's just a smart thing to do as a coach. Take that, Doc. (Smiles.)
-Q: What did Doc say?
-JACKSON: He said he doesn't hide Chris Paul. So nice subliminal shot.
Both Doc and Mark willingly gave each other
bulletin board material
before the series even started. They went after potential weak links like Redick and Thompson, already trying to sow some doubt in the minds of shooters.
Race:
Mark Jackson called for Clippers fans to boycott pivotal Game 5 to protest Sterling. Of course, such a move favors the Warriors in that pivotal matchup. What you may not have known was just how strong Jackson's comments were:
"If it was me, I wouldn't come to the game. I believe as fans, the loudest statement they could make as far as fans is to not show up to the game," Jackson said. "
As an African-American man that's a fan of the game of basketball and knows its history and knows what's right and what's wrong, I would not come to the game tomorrow
, whether I was a Clipper fan or a Warrior fan."
Tying in the boycott to being black, to what's right and wrong? No, Mark Jackson never said Clippers players should boycott Game 5. But can't you see hints of that idea in his comments and word choices? It's a wonderful bit of psychology. In addition, by the Warriors claimed they were ready to boycott the game had Sterling not been suspended, again, the Warriors seem to be taking the high road while subtly increasing the pressure on the Clippers. Is it ethical? Not so sure. Is it psyops at a high level? Yes.
Religion:
Sam Amick wrote a fascinating story on religion and NBA coaches that I may spin into a separate article. But let's focus on how Rivers is so available during a supposed tight, busy playoff series to give Sam Amick quotes:
"If it's 75% (who believe one way), that's to me 25% that (don't)," Rivers said. "To me, if it's 95%, the 5% deserve the same treatment as everybody else. And I just think that's what we need to do. If it was church, then that's different.
This is not church. This is our jobs.
So our jobs come first, respect comes second, and I think that's the way it should be."
Jackson is, of course, the pastor of a church in the off-season. Rivers already banned his players from fraternizing with the Warriors in a religious context. We have Draymond Green, Warrior player, saying "because without (God) we are not who we are and we are not the team that we are and we all know that. We like to give him credit for what he's doing for this team." In the same article, what does Rivers do? He intentionally attacks the idea that the Warriors have any special favor from God. He says "I don't think there's any God cheering for one team over another. I know that." It's no accident Rivers is choosing these words. Again, is it ethical? Not so sure. Is it psy ops at a high level? Yes.
After-series:
So the series is over, and the two coaches are friendly again, right? Not so fast.
When Jackson gets fired, he brings up that it's ok that he doesn't live in the Bay Area during the offseason.
Why
?
"But Doc Rivers coached in Boston living in Orlando. The coaches that I played for lived other places."
Oh, and Doc is disappointed at Mark's firing, sure. But wait, how does he say it?
"Mark Jackson gets a team to multiple playoffs for the first time in a thousand years and gets fired."
Yeah, a thousand years, almost as long as it took Vinny Del Negro to take Clippers to back to back playoff appearances. Worry not, psyops fans. I'm pretty sure Doc Rivers will renew the rivalry with whoever the Golden State Warriors next coach is. And we'll be here to appreciate how slyly the psychology of each statement is used to demoralize the other team.