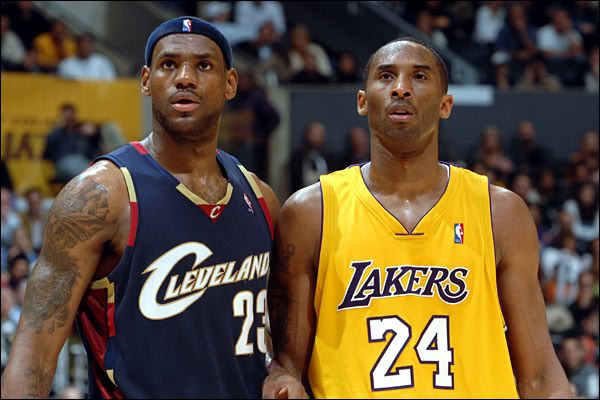 Lebron James has seen a sharp drop in his popularity since "The Decision" aired. He's gone from having one of the highest positive Q-ratings for any athlete to being disliked by 40% of the population (
link
). For a man so obsessed with money, Business Lebron has to be concerned about the effect on his endorsements. But surely a championship or two will restore him in the public eye? You would think...but let's compare him with Kobe Bryant.
Kobe is often cited as the example of rehabbing one's reputation via winning. He is now
America's favorite sports star
. But the comparison between the offenses Kobe and Lebron committed against sports fans do not hold up over time. Kobe's crimes were helping to push Shaq out the door (and time has shown that might have been the right decision) and sexual impropriety in Colorado (in which the case was settled out of court). Neither incident had an easily definable, televisable moment that can be replayed over and over again. Neither incident was watched by millions of sports fans live. And neither incident was a crime against an entire fanbase (or perhaps two, depending on how delusional Knicks fans are given Lebron's previous statements about NY). To compare Kobe's situation to Lebron's fails to recognize the differences between the two...but then again, what else is new when it comes to Kobe-Lebron comparisons?
Halftime Adjustments is a new type of blog I'm working on to sniff out bad comparisons, generalizations, and analogies in ongoing stories. Feel free to submit your own angles on developing stories in need of adjustment to me via my email or twitter (links on sidebar).