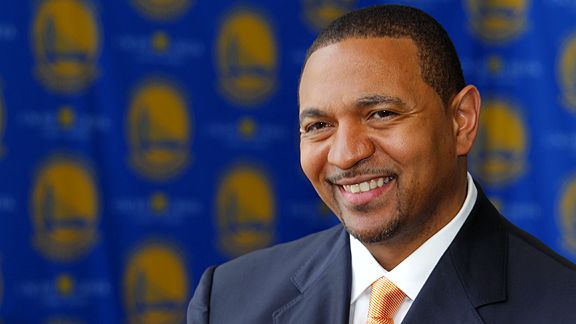 Rocky Widner/NBAE via Getty Images
When I heard that Mark Jackson was hired by the Warriors, I had to hide my disbelief. The point guard who ran some of the slowest offenses in the league would be now in charge of the fun-and-gun Warriors?
The folks at ESPN agreed with me
, as writer after writer tore into the Warriors for choosing Mark Jackson.
However, looking back at the records of star ex-players who became coaches, and TV analysts who became coaches, I'm surprised by how good those coaches became. The optimistic example for Mark is Doc Rivers, who only three years after his retirement was coaching the Magic. Kevin McHale and Larry Bird had zero assistant coach experience and still stepped in and did a halfway decent job. Also, analysts such as Hubie Brown and Doug Collins stepped in and got instant respect from their players. Honestly, I couldn't think of one analyst or player that was truly poor except for Magic Johnson. (I would have liked to see how Isiah Thomas would have done if Eddy Curry was healthy instead of hungry.)
The average NBA player would rather be coached by some guy that he's seen on TV rather than a guy who has been a no-name assistant for 20 years. The head coach doesn't need to be a star X's and O's guy himself. Being able to demand instant respect from the players the moment you walk in the door makes it much easier to wait out the inevitable player conflicts early on. It's why the NBA rarely works out for college coaches; they can't demand the same level of credibility. If Mark Jackson could handle the demands of Reggie Miller and Patrick Ewing, I think he'll be able to keep Monta Ellis under control. With a guard-heavy offense in Golden State and a strong compliment of assistants, I think Mark Jackson will be a shrewd hire.