Now for San Antonio's other team that perhaps 99% of you have never heard of, the WNBA Silver Stars. They recently acquired two players who have worked hard to get more playing time. While many a snarky female might argue that being blond and reasonably attractive is a huge career asset, it's no guarantee that you'll start in the WNBA. Just ask Becky Hammon or Erin Buescher.
Becky Hammon came to the New York Liberty in 1999 from a relatively unheralded women's program at Colorado State University. Her statistical profile is
here.
She finally became a starter and fan favorite in New York after 5 years in the league. Becky even had a local restaurant name a sandwich after her. (Hammon, Cheese, and Egg was the name.) Yes, it's a life ambition of mine to have a sandwich named after me, and I'm fearfully envious. No MCBias Bagel? It's because I'm not 5'6" and blond, and can't shoot over 20% from 3-point land, isn't it? Stupid Title IX! (Picture from BeckyHammon.com).
Anyway, she was traded to the Silver Stars on draft day, so we can look forward to the Hammon Tortilla sometime soon. I don't have pictures of Becky in San Antonio gear, but here's a picture of her fighting for the ball to remind you that basketball is a contact sport:
Erin Buescher is a free-spirited individual who loves Bible study, surfing, and reggae. She decided to leave her Division I program at Santa Barbara in college to transfer to the Master's College, a small NAIA school, for her senior year. You would think that such a step would kill her chances at the WNBA. And her
stats
were those of a substitute for her first four years. She was trapped in Greece in 2006, on a team that didn't care about basketball, with her career in the WNBA perhaps ending. But instead of giving up, she decided to work on her body and her game. And it certainly paid off! (thanks to the good folks at RebKell's for the initial screen grab and info, see
here
for details.
Oh, and she won WNBA Most Improved player in 2006. Whatever. I'm still thinking about how hard I'd have to work out to get abs like that. Um, wait, do I even still have abs? (pokes at belly in vain for signs of abdominal muscles).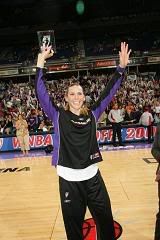 And now she too is a Silver Star, signed as a free agent. It will be interesting to see if Erin and Becky can improve their games even more in their new location, or if they've peaked as athletes. Regardless, even if they don't do much else, they've definitely shown great improvement since their rookie seasons.